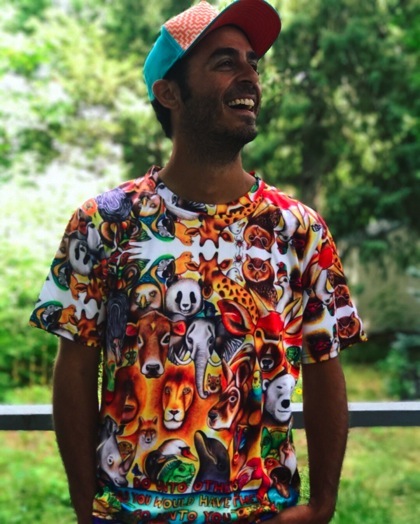 The role of Art throughout time has been to correct these belligerent pathways that societies can often be led astray upon. It is up to the Artist to not pick sides, or labels, but to see directly through to the heart of ALL matters by intensive thought and perseverance of mental perceptions, with the Purest of intentions. To seek out what is right and True, and represent it in ways for ALL to Understand and learn from.
These are my goals.
Every Artwork i create is designed for a specific cause relating to this Mission of Awakening the inherent Love for Beauty that exists in ALL of US. A mind that thinks it knows all, knows the least. I live knowing that i know very little about the Truth of the mysteries surrounding me, but i KNOW that i want to discover some answers. I know ART is a method of discovery.  One of my favorite aspects of being alive today is the vast collection of Ancient texts with which we have easy access to at all times, for those who choose to look. These treasures of the Past may vanish if not brought to light and disseminated amongst the future minds of Our world.
My Mom is a teacher and my Father is an Engineer. Together they created a son dedicated to Creatively Engineering an Educational Style of Art for the benefit of All beings. And as a result, Art is my life. It is my mission. It is my Passion, and it will NEVER end. The ideas will Never stop, nor would i want them to.
The eARTh itself even displays it's pleasure for my path by guiding me towards a beautiful and eternal relationship with the beautiful Erin of www.ErinShelbyBun.com. Together we both share the same Mission of ART, and have since birth, without any knowledge of one another, yet born one town apart. Blessings like this are expressions of the Perfection of this Universe. They do not show themselves to those who are not paying attention.
The purpose of Our Art is to offer a glimpse into these Wonders of Life which make all of Our times on eARTh infinitely more Perfect. If we can encourage people of All ages to appreciate and Love the Animal Kingdom, Ancient cultures, the Powers of Creativity, their Health, Spiritual Pathways of Peace, Musical Harmony, the power of Good, the magic of illusions, the Beauty of Nature, the need to explore the World, and so much more, then we have succeeded. We will forever be in Awe of the beauty that surrounds us, we want others to share in this Wonder, and fill their imaginations with the unique potential that lies READY inside of Us ALL.
Enjoy what we do, and feel Free to Share with Us, what You Create 🙂

Some Artistic Accolades 
Anchor Artist and Co-Manager at the Patriots Place Artists Studio and Gallery in Foxboro, MA since 2015
Solo Art Show at Zullo Art Gallery in Medfield in Summer 2015
Small Works Gallery Art Show at the Zullo Gallery Winter 2018
DiNo and dART Featured Artists at Delaware Vegfest in 2015 with Showcased Rehoboth Beach Art Gallery Show and Celebration
Featured Artist and Festival Poster Creator for Pennsylvania EvolveFest Music and Yoga Festival in Summer 2013
Official Artist for Sunshine of the Americas Foundation 501c3
Featured Artist at Nikola Tesla Convention at the New Yorker Hotel Winter 2015
Honorary Award from Nikola Tesla Science Foundation for Contributions to Artwork dedicated to Education and Tesla
Runner up in Bombay Sapphire Boston Art Contest of 2011
A Presentation of My Art Story, Intentions, Ideas, Visions and Goals